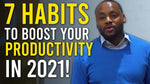 In this video, Kuda Biza will cover the 7 habits you need to start in 2023 to increase your productivity!
Increasing your productivity is one of the cornerstones of success. We all have 24 hours in the day, but how come some people get so much more done than others?
The most important step to knowing how to be more productive is to set habits that keep you productive. Habits are things you do every single day without even thinking about them, which is why they're so effective.
Stop searching for productivity hacks. Instead, set habits that you automatically do every single day that set you on the right track, and learn how to manage your time.
Watch this entire video for the 7 habits that you need to start in 2021 to drastically increase your productivity!
 ▬▬▬▬▬▬▬▬▬▬▬▬▬▬▬▬▬▬▬▬▬▬▬▬▬
🔥 Subscribe ► https://bit.ly/3A7pjGh
🚀 Learn How To Start Making Money Online ►https://bit.ly/3k9KGkC
📔 101 Side Hustles e-Book ► https://bit.ly/3lxGg6S
📕 GRAB MY BOOK (JUST COVER SHIPPING) ► https://bit.ly/2XBEdpG
▬▬▬▬▬▬▬▬▬▬▬▬▬▬▬▬▬▬▬▬▬▬▬▬▬
🌎 Website - https://www.kudabiza.com/
📕 Check Out My Book - https://www.kudabiza.com/shop
📣 Hire Me To Speak At Your Event - https://www.kudabiza.com/speaking ▬▬▬▬▬▬▬▬▬▬▬▬▬▬▬▬▬▬▬▬▬▬▬▬▬
📷 Instagram - https://www.instagram.com/kudabiza/
💼 LinkedIn - https://www.linkedin.com/in/kuda-biza...
▬▬▬▬▬▬▬▬▬▬▬▬▬▬▬▬▬▬▬▬▬▬▬▬▬
ABOUT KUDA BIZA:
Kuda is a serial entrepreneur focused on making a change in the world through being a force for good and creating social change. Growing up in Zimbabwe, Kuda learned very quickly what going to bed on an empty stomach felt like. Seeing the poverty, hunger and lack of education in his home country is what later in life pushed Kuda to become a social entrepreneur, creating businesses like Nunbelievable and ThisIsMyEra to help end these very issues. Kuda now spends his time building businesses, creating social change and helping inspire others to chase their own dreams and make positive change in the world.