Ultimate Goal Setting & Productivity Tool
Undated 90 Day Planner, Journal and SMART Goal Tracker with Master Goal List, Goal Worksheets and Weekly & Monthly review. 256 Pages. 100+ Inspirational Quotes.
SHOP NOW
Achieve Happiness

Having your goals and dreams mapped out means you have a GPS to reach them on time!

Increase Productivity

With your days neatly organized and your tasks prioritized, you'll find yourself becoming more productive than ever before.

Master Time Management

TIME is the most valuable resource anyone has. Using your time wisely allows you to maximum impact and make it your era!

100+ Inspirational Quotes

Wise quotes from some of the greatest 'era makers' in history will help you start each day with something epic to ponder and use to your advantage.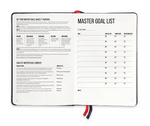 Master Goal List Page
Step-by-step tips on how to properly write down goals using the S.M.A.R.T Goal system. S.M.A.R.T. Goal example to get started. Master goal list section for up to 10 goals with area of life, target date and date completed sections. Also including a note section.
SHOP NOW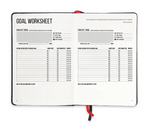 Goals Worksheet
Capture the S.M.A.R.T goal. Progress bar for easy goal tracking. Area to capture and prioritize the key action steps that you will take to reach your goal. 100+ inspirational quotes. It's always important to understand the WHY - "Why is this goal important?" this section allows you to capture why this goal is important to you.
Monthly Review
The monthly review allows you to manage your time and schedule while visualizing your tasks, events and appointments for the month. Keep an eye on the future by writing down your top 3 goals for the month. At the end of the month, reflect on the top 3 lessons learned.
Contains: 3 Monthly Review Pages
Weekly Review
How to start an amazing week: reflect on the previous week, then break down your current week's goals & priorities into tangible action steps. This allows you to see the big picture as well as the small tasks that must be accomplished in order to achieve your dreams.
Contains: 13 Weekly Review Pages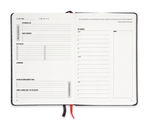 Daily Review
Attain ultimate productivity every day in the daily review section. Start each day with power by listing out your top goals and priorities for that day. The "My To-Do List" section ensures that your never forget anything as you go through your busy day. Reap the rewards of positive thinking by writing an encouraging self-affirmation statement. Stay on track with your daily schedule and take any notes that come up throughout the day. End the day by reflecting on your wins, accomplishments, lesson learned and key follow-ups.
Contains: 90 Daily Review Pages
Notes
Allow your mind the freedom to be creative and roam without boundaries. Capture your ideas, thoughts, visions and more in this section. 
Contains: 8 Notes Pages
SHOP NOW
The Ultimate Tool To Create Your Best Life.
Goal Setting and Tracking Made Easy. Set goals around all areas of life, create a plan to achieve them, unlock your potential, find balance, and empower others.
SHOP NOW
Try Before You Buy!
Try our Daily Planning Review for 5 Days.
How do you make sure your goals will happen when life just keeps moving faster and faster?
The answer is to own your goals with clarity and create action steps without overwhelm.  You're invited to practice it for a week (for free!). It's worked for thousands of people in our #ThisIsMyEra community - people who have a big vision like you. 
TRY NOW
We get it - goal setting and tracking can be challenging.
When you use the ThisIsMyEra 90 Day Planner, you can make forgetting about your goals and happiness a thing of the past. Our undated planners make it easy to start whenever you choose. Get your 90 Day Planner today and increase your productivity, master your time, and achieve happiness.
SHOP NOW
"Solid planner! Great quality! Awesome cause! Just got my new planner!! Love it!! Awesome quality, love the leather feel and the inside pages have really helpful guides to help keep organized. Not to mention the fact that by purchasing this notebook, a child in need gets one as well..... you can't beat that!"

- PEDRO M. - CEO, PETMIO

"As an event planner, this little black book is everything I have been asking for! I am super detail orientated and have to focus on multiple projects at a time so I basically cannot survive a day without a planner in hand."

- SARA G. - EVENT PLANNER, UMBRELLA & CO

"As a college student, this planner is perfect for keeping my class schedule/life in order. I go to a school that has a big focus on activism and positive messages and being able to show off my support for this campaign while keeping up with my homework schedule is a win-win."

- BRYCE C. - COLLEGE STUDENT

"Loving my new planner! Daily inspiration and organization to help reach my goals! I recommend this for personal use and as a gift!"

- LEIGHA H. - OWNER, AHIMSA BOUTIQUE

"So glad I invested in this planner! This is an ideal planner for someone who wants to take control or their life and accomplish their goals. It's very goal specific and allows you to keep in mind aspects of life like health and spirituality, which we often neglect. The quotes are an amazing touch and are quite inspirational. Overall I think it's great! It's like having a personal life coach in your bag."

- ESTHER J. - EDUCATION ADMINISTRATOR
Hello there! I'm Ruth, one of the cofounders of #ThisIsMyEra. Today, I want to give you an insider's look into my personal journey with productivity...
In our fast paced world, stress can often feel like an inevitable part of life. Balancing work, personal commitments, and selfcare can be challenging, leading...
A Planner with a Purpose.
Every Planner Purchase Educates a Child through our partnership with World Vision
Shop Now